We've all been there – we spot a beautiful new fabric, buy it, eager to get home and sew something amazing with it, and then get buried along with the new fabric, by metres and metres of fabric you already own…
It's safe to say, most of us have too much fabric. Personally, I hate waiting until Spring to have a good clear out of my craft room, as then when Christmas rolls around (and Black Friday that has somehow now become a 'thing' in England too) I can fit all of my new sewing goodies away neatly to use.
Today we're going to share a few tips on how to declutter your sewing room and organise what you do want to keep (to make room for more fabric obviously).
TIP 1 – Use a de-stash or Buy & Sell group on Facebook
These groups allow you to post the item/fabric you don't want for sale, on a Facebook group full of people looking for fabric. These can be a little detrimental to your decluttering, however, as you can also buy what other people are selling – but one in means one out, right? Also investigate whether your fabric is worth listing on eBay, as this incurs some fees, but may be worth it if you have a rare print.
TIP 2 – Sell at a rummage or car boot sale
If you have some relatively low quality items that you don't think will fetch much, try doing a table top sale, where everyone gets a really cheap deal. Consider pre-pricing items and letting people barter.
TIP 3 – Donate to Charity or a School 
It can often be good to donate a job lot of fabric to a charity shop, as they can then resell it as a kit for a beginner, and you'll feel pretty darn good about it. School textile departments are always looking for felt, cotton, polyester, fleece and other bits and bobs, their budget often doesn't reach widely enough for these things, so see if a local school needs bits you couldn't sell.
TIP 4 – Swap with your friends
That Silver Diamanté Encrusted Satin might not be you anymore, but I'm betting your friend would put it to great use, in exchange for that Supersoft Bamboo Cotton you've always envied. Set up a swap night and mix and match from your stash. Sometimes a fabric will just need a fresh set of eyes to create something – you can always gift them something made of the fabric afterwards.
TIP 5 – Re-gift your stash and help a beginner
If you know someone who's learning to sew, a handful of old tools and some practice fabrics are a perfect gift, it can be an expensive hobby! This can also be a great way to build a relationship with another sewer so that in time, you can swap from your stashes too. More friends = more fabric!
Now you've cleared out your junk (one man's trash is another man's treasure!) you can organise it. Here are a few tips we love!
Hang Them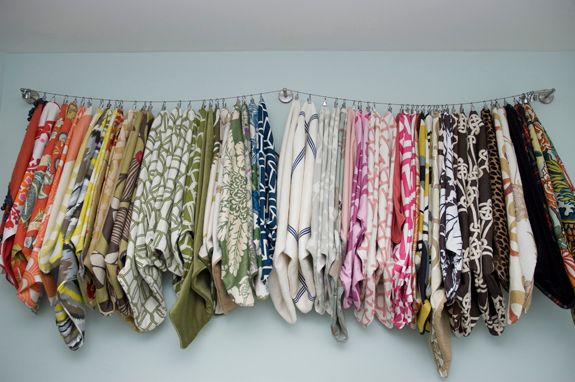 File Them Away
Fold Them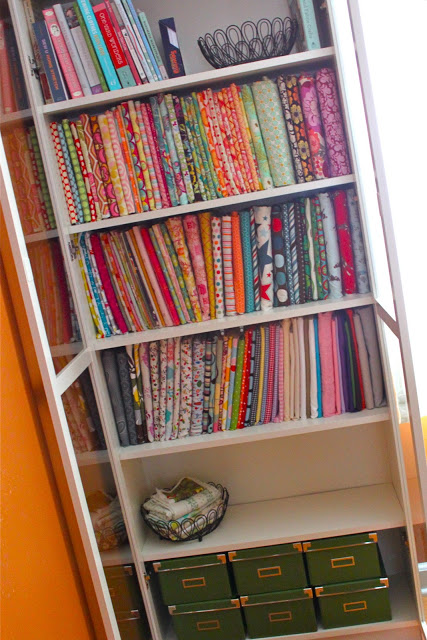 Check out some more inspiring ideas on our Pinterest board
How do you store your fabric? Do you have any tips for decluttering? Let us know in the comments below!
Happy Sewing!